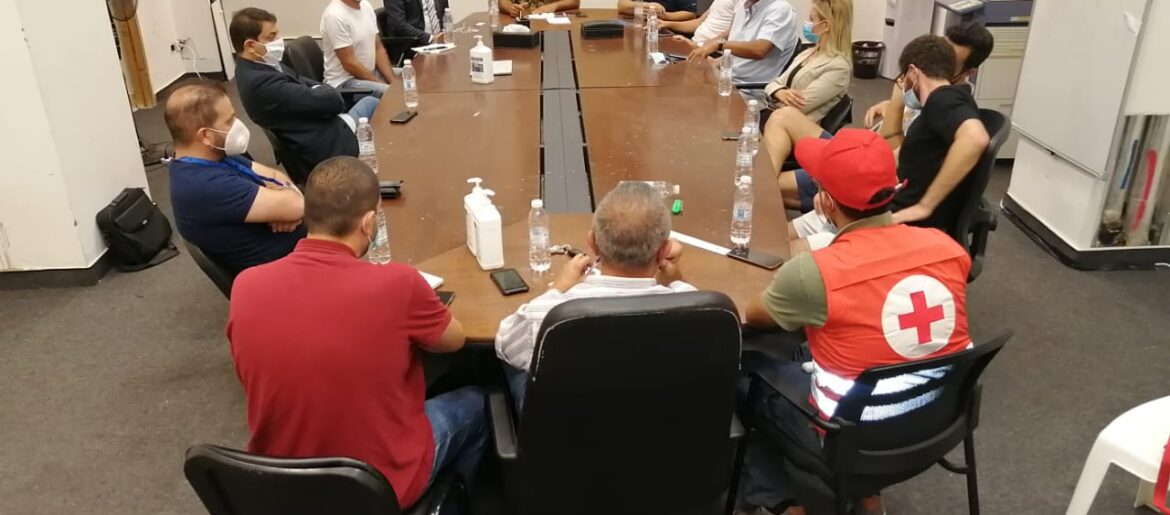 Activities
SANAD participates in the coordination meeting with the Lebanese Army
Sanad Lebanon participated in the coordination meeting in the Beirut municipality, which was called by the head of the Forward Emergency Room, General Sami Al-Hawaik, to follow up on the humanitarian and social conditions in the affected area in Beirut.
The meeting was attended by General Director of Sanad Lebanon and General Coordinator of the Digital Transformation Network in Lebanon Dr. Nadim Mansouri, President "ALMA" and "PCA" Kamil Moukarzel, President of the "Professional Informatics Association" Rabie Baalbaki, Head of Informatics and Technology George Khoueiry, representing members "Beirut Shall Rise" campaign, Muhammad Diab and Ziad Munther from PCA, Joseph Bou Saab, represented by "Olive Tree Foundation / Sweden", Nora Al Marabi, an expert in information technology in the DT Network, Colonel Adeeb Saliba, Shaheen Hamza from the Lebanese Red Cross, and the two experts Rizkallah Shartouni and Adeeb Al-Qaei.
Primary objectives of the meeting:
Explaining the general situation in Lebanon concerning the economic, health and security aspects.
Challenges and difficulties confronting the Advanced Emergency Room while managing this crisis and the proposed solutions to overcome the complications.
Introducing the audience to the working mechanism of the Advanced Emergency Room and discussing the means of managing the aid in order to deliver it adequately to those affected by the explosion.
Explaining the best ways to cooperate and coordinate between these organizations and the Advanced Emergency Room with the aim of getting the best results possible.
Questions were asked by the guests attending the meeting and LAF officers gave the answers.
The working environment during the meeting was positive and all the representatives expressed their full cooperation with the LAF to ensure the success of this mission.